Who'sUp?
Is a robust round robin sales tool for Automotive and PowerSports dealerships that tracks and controls the "Up" rotation of sales persons.
No hardware is required. Who'sUp? Is a downloadable app that runs on Apple and Android devices. Each salesperson has a "key" that is cycled to ensure only valid current dealership representatives are able to use, view and respond to sales opportunities. When accepting an up, the sales person simply taps accept and they are removed from the first position and automatically added to the last list of who's' ups position. The round robin cycle continues until the dealership open hours have expired.
iOS and Android Apps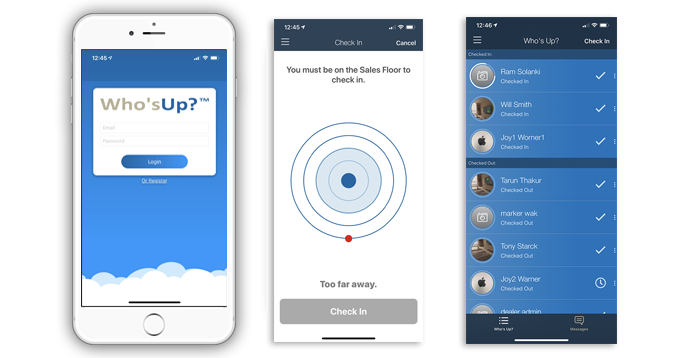 Using the Who'sUp? App, the sales team always has a view of who is with a client and who is in the queue to assist the next walk in customer. By automatically detecting what sales persons are on the dealership showroom, Who'sUp? Triggers an accept or decline notification for each sales person to be added to the rotation. A special login for managers, gives sales management the ability to
re-queue or rearrange the schedule for ups.
Contact us
Automotive
Sales
949.374.9175
Customer Service
949.916.4329
PowerSports
Sales
844.468.6628
Customer Service
844.468.6628
Fax
eFax: 949.315.3295
Resources
Whitepapers