Introducing the NCompassTrac Dashboard® for DMS
Integrated with more than 40 Automotive & PowerSports Dealership Management Systems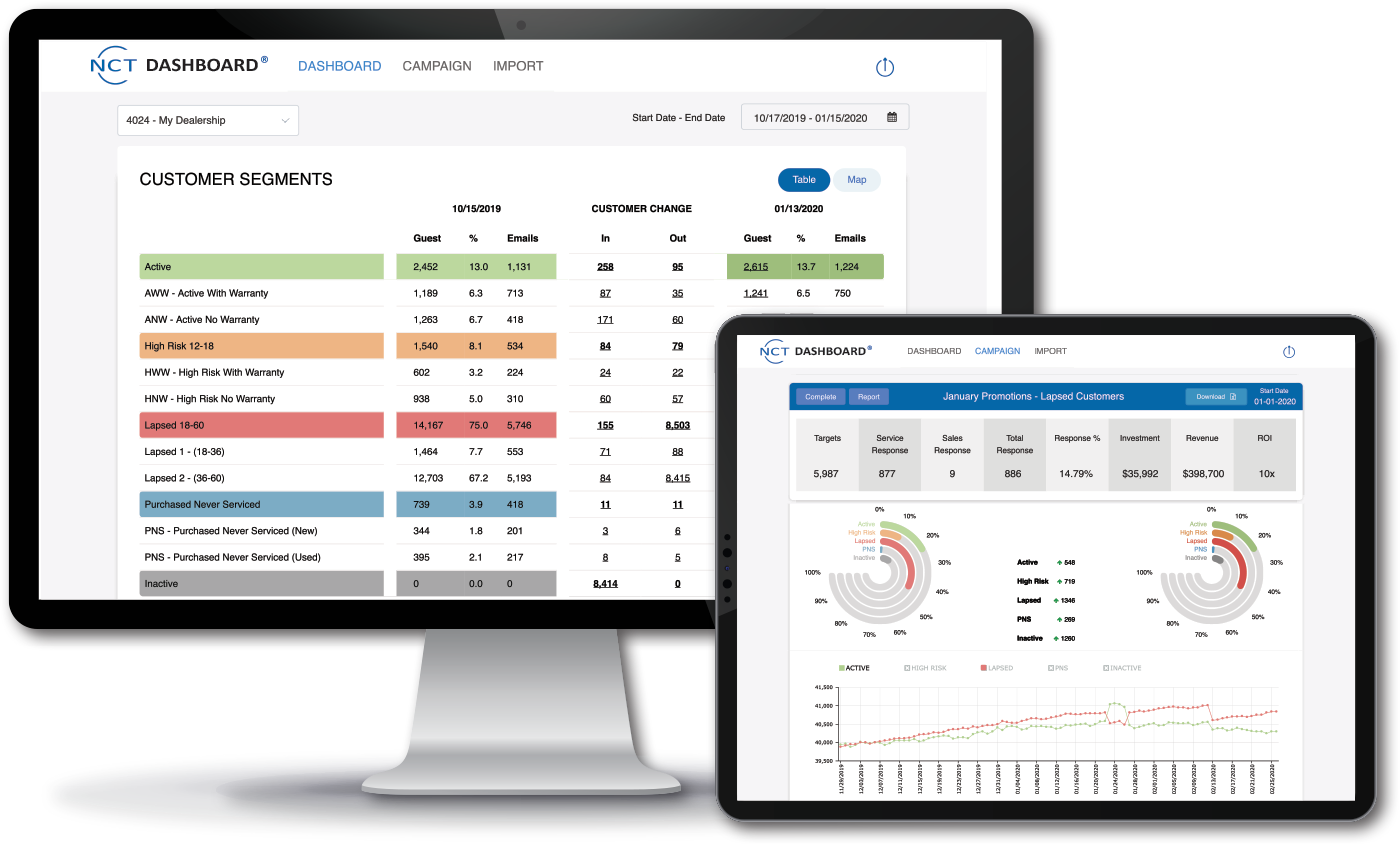 Visualize Opportunities
Analyze and intelligently segment your customer records into actionable targets.
Take Action
Deploy Targeted Marketing Campaigns using our Marketplace of on-demand digital communications and physical media tools.
Track Results
Track Campaign Performance associated with your Targeted Segments, real-time.
NCompassTrac Marketplace®
While visualizing opportunities in your DMS is important, taking action on those insights effectively can be challenging. With full-service fulfillment capabilities for both Physical Media and Digital Communications, NCompassTrac offers proprietary products that fill a variety of marketing needs as well as partnerships with industry leaders to make their solutions available for you to take action with the click of a button.
VERB Interactive Video
 Interactive video allows you to generate a raw or professional video from your phone or camera and embed "action links" which enables your targeted segment to directly and immediately engage with your Dealership. Tracking analytics show you video views, the length of viewing, and clicks for real-time follow-up and higher conversion. 
700Credit® Pre-Screen
Leverage the Pre-Screen data accelerator while creating campaigns to optimize initiatives by factoring your Dealership's desired credit criteria. With this partnership, deliver targeted communications with increased confidence that the subjects are within your target demographic.
MyDealerRewards®
 Designed with the sole purpose of acquiring and retaining customers within an area of influence – Dealerships can identify and target lost customers, conquest customers with same or competing brands who have never done business with your dealership, while tracking the performance of all revenue generated.
NCT Who's Up?®
Track and control the "Up" rotation of sales persons. No hardware required. The platform is equitable and self-managed, contains bi-directional messaging, in-app notifications, real-time reports, test drive tracking, and more.
DealerSocket® CRM
As a certified integration partner, rest assured knowing that any lead data will be sent real-time to the DealerSocket CRM product. Additionally supplement your NCT Dashboard context with pre-sales leads to increase audience for your targeted campaigns.
Dealership Mobile App
Complete with vehicle sales inventory, communication of specials, push notifications, digital coupons and wallet for dealership branded electronic cards.
… And More!
Does your product provide unique capabilities to help dealers take action with targeted campaigns?

Contact us

today to join the NCompassTrac Marketplace®.
Apple Enterprise Partner
NCompassTrac works closely with Apple for iOS devices to bring the latest in mobile applications technology to market.
.
Google Android Partner
For Android tablets and devices, the NCloud is a click away. As an Android certified developer, our engineers are working to bring the best of this exciting wave of technology to your enterprise.
Amazon Web Services
Forecast: Cloudy with a 100% chance of success. Our cloud application takes advantage of the best technologies from Microsoft and Amazon Web Services for guaranteed uptime, replication, and scalability.