RecallTrac®
Cloud based recall campaign solution in a box with a proven track record for success
The RecallTrac® Solution.
RecallTrac is a cloud based recall campaign solution in a box with a proven track record for success. By using RecallTrac, dealerships have the ability to target and capture new customers and build a bond with existing customers that will ensure a lasting business relationship built on valued mutual benefit. What's more, the solution can easily be expanded to include a points based rewards system or a declining balance "savings" card solution, all designed to increase customer retention. RecallTrac offers dealership apps and real time dashboard metrics all designed to produce revenue and results.

RecallTrac® Using all the data that has been selected and massaged, RecallTrac® will create the database, segmentation and logistics for mailing recall notices, and then track all the revenue and response rates by segmented category to produce a "to the penny" return on investment for the campaign.

RecallAnalyst® crunches the data provided by RecallMiner® or any other source to produce a segmented and detailed roadmap of vehicles and owners, make, model and year and other relevant data to visualize the scope and size of the market.

RecallMiner® zeros in on your AOI, brands, and zip codes to identify and scope the size of the opportunity for recalls within a specified radius or other parameters. This, in turn, produces a population of customers to target within a campaign. Data is live and current, multiple sources are used to vet and eliminate bogus records and faulty addresses. This begins the process of building a goto market strategy.
The Facts
In 2015 alone, there was nearly 64 million vehicles recalled. Of the 803 vehicle recalls, 123 resulted from N.H.T.S.A. investigations or contacts with automakers. The other 680 were initiated by the automakers after they discovered a problem and, as the law requires, reported it. However, the NHTSA shows that 70% of all vehicles involved are still on the road.
According to the New York Times, the number of vehicles affected by a single recall can vary widely. In a departure from its practice in previous years, N.H.T.S.A. did not release the number of recalls by manufacturer. But General Motors Corp accounted for almost 27 million of the recalled vehicles, the automaker said. According to the automakers, Honda recalled about 8.9 million vehicles last year, Fiat Chrysler recalled about 8.8 million, Toyota recalled about 6 million and Ford recalled almost 4.9 million. Automakers recalled almost 22 million vehicles in 2013 and about 16 million a year in 2011 and 2012.
The agency also said that almost 7.7 million seats designed to restrain children in an accident were recalled in 2014, the second-highest number since it began recording such actions in 1972.
The Opportunity
For dealerships, recalls represent an opportunity to not only correct the defect which in turn builds goodwill, but to engage with a brand customer to offer additional services and sales support. Since recall repairs are by law covered by the OEM for 10 years, this presents sales with an option to trade or refit the customer with a new vehicle. For service, the average incremental repair order over and above the recall revenue is $277. With the overall RO being 73% customer paid.
Of the customers that have been contacted about recalls directly by a dealership, the average return on investment to inform customers of the recall is 14 to 1. Gross servicer revenues versus program cost. For recall mailers, the average response rate is close to 10%. The average services revenue generated per recall postcard mailed is an outstanding $23.70. In short, the opportunity to please customers, support the brand and protect the OEM while generating a profit has never been greater.
Getting Started
To understand the metrics and more about this incredible opportunity to engage with brand owners, contact RecallTrac directly and setup a quick 10-minute presentation. We can tailor a campaign to meet your revenue requirements and with our state-of-the-art cloud based tracking software we will provide you revenue reports, zipcode performance, demographic information and before we even begin, give you a count of the brand recalls in your AOI by year, make and model.
Auto recalls Spiking – here's why
Fortune Magazine article excerpt, by Doron Levin
2014 was a record year for recalls — and that isn't because of the VW scandal, either. Toyota recently announced it was recalling 6.5 million cars, due to a faulty window switch. Then Mazda announced it was recalling 4.9 million cars because of a defective ignition switch. If you're wondering whether auto recalls are on the rise.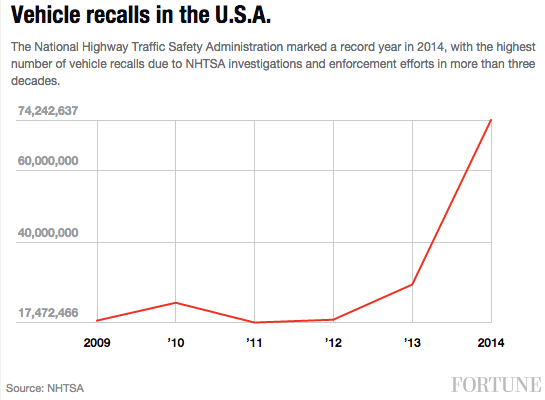 The number of recalls by automakers has risen steadily in the U.S. for the past two decades. For the first three quarters of 2015, there have been roughly 141 recalls, covering about 34 million vehicles, which means it is pacing a bit below last year's numbers, the NHTSA says.2014 marked a record year for vehicle recalls in the U.S. More than 74 million vehicles in 902 separate cases, as documented by the National Highway Traffic Safety Administration (NHTSA). That number represents more than a quarter of all vehicles registered in the U.S. and the biggest total since 1999, when 55.5 million vehicles were recalled in 440 cases.
What's causing the surge in recalls? An analysis suggests there are several factors at work.
General Motors activism
In part, General Motors' activism is credited for the 2014 spike. In early 2014, General Motors Co. issued what it thought would be a routine recall of 800,000 Chevrolet Cobalts for replacement of a defective ignition switch. But by the time GM finished recalling all the cars with the defective switches, the number was at 2.6 million.
Then GM acknowledged engineers and managers had known about the defect for at least a decade, and equally damning, federal regulators acknowledged it had access to the data too but failed to analyze it.
GM's chief executive officer Mary Barra vowed the auto giant would do better. Since GM accepted federal monitoring in the wake of a $900 million fine to settle federal criminal charges, it accelerated the pace of recalls. GM sent notices to owners of 27 million vehicles in the U.S. in 84 separate actions – more than twice as many cars and trucks than it had manufactured worldwide in 2014.
Automakers also say advanced tracking systems allow them to isolate problem vehicles without having to check every one.
More government and consumer scrutiny
Consumer advocates such as the Institute for Highway Safety and the Center for Auto Safety have pushed for stronger safety standards, while plaintiff attorneys have won lawsuits against auto makers on behalf of drivers and passengers hurt and killed in accidents. (In fact, it's notable that Volkswagen's faked emission test results was not uncovered by regulators; it was first uncovered by the International Council on Clean Transportation, a non-governmental group specializing in air-quality issues.)
With such increased pressure from consumer advocates and lawyers, regulators, including NHTSA, are stepping up enforcement.
Mark Rosekind, who joined NHTSA as administrator last December, also has stated he will police the auto industry aggressively. Michelle Krebs, an analyst for AutoTrader,called Mark Rosekind "a new sheriff in town," noting NHTSA "has been under as much scrutiny by Congress as the automakers for dragging their heels and not doing their job. The agency wants more funding, so it has to prove itself."
Under Rosekind, NHTSA in July hit Fiat Chrysler Automobiles N.V. with a $105 million fine and ordered the automaker to buy back 200,000 Ram pickups and Dodge SUVs due to a fuel tank the government said was too prone to fire in a rear-end collision. FCA had been resisting NHTSA's suggestion that it voluntarily recall the vehicles. Sergio Marchionne, FCA's chief executive officer, finally relented, conceding that he had been slow to respond to a new, tougher regulatory climate.
Safety tech brings risks
Paradoxically, the technology that helps to develop safer vehicles also creates complexity and tests the limits of engineers' ability to anticipate and prevent new dangers. Late last month, NHTSA contacted an additional seven automakers about possibly defective – and deadly – Takata airbag inflators in their vehicles. Nearly 20 million vehicles with suspect inflaters have already been recalled by 11 automakers.
The sheer number of airbags that must be replaced, due to possible explosion of inflators, has overwhelmed suppliers of replacements and repair facilities. Takata suspects that a chemical used to deploy airbags may degrade after exposure to humidity, causing them to explode during a crash and propel shrapnel into the cabin. The faulty mechanism has been linked to eight deaths and more than 100 injuries.
Since Barra's testimony, GM has embarked on a companywide program called "Speak Up for Safety" that encourages any employee, dealer or other interested party to highlight any safety concern. The automaker then investigates. It assigns a safety engineer who could present findings to a committee led by Mark Reuss, executive vice president.
"Not only is there more regulatory scrutiny by various governmental agencies, the automakers are very wary of being on the wrong side of a recall tug of war with them," said Jack Nerad of executive editorial director for Kelley Blue Book. "Those controversies can cost automakers dearly in both public perception and, as we have seen, by fines and liability awards that have reached unprecedented proportions."
In other words, expect the trend to continue.
More on the Auto recall markets
With an abundance of information available from government, consumer groups, OEM's and the NHTSA we have compiled some of the relevant web sites and data sources for your convenience. RecallTrac works with ALL OEM brands, so if you have any questions or concerns about how to approach this, please contact RecallTrac directly.
Some informative sites and content on the automotive recall effort
Recalls Look-up by VIN (Vehicle Identification Number)
Owners may not always know their recalled vehicle still needs to be repaired. NHTSA's new search tool lets you enter a Vehicle Identification Number (VIN)
Recalls & Defects | National Highway Traffic Safety … – NHTSA
Motor Vehicle Recalls – Search by the vehicle or equipment producer
Motor Vehicle Recalls – Recalls.gov
The safety agency has finally identified every VIN involved in the recall of more than 33 million vehicles for shrapnel-shooting Takata airbags.
NHTSA Knows Every VIN in Takata Airbag Recall, Go Check Yours …
Ford Motor Company
Ford Motor Company Login to view recall notices and information for Ford, Lincoln and Mercury vehicles.
Recall Notices | Services | Official Ford Owner Site
Volkswagen
Enter your 17-character VIN (Vehicle Identification Number) to check if any recall/service campaign applies to your Volkswagen.
VW Recalls | Service Campaigns | Volkswagen
Mazda Motor Corporation
Mazda Motor Corporation Search for recalls – enter your Vehicle Identification Number (VIN) to see the status of any pendingrecalls for your vehicle.
Mazda Recall Information | Mazda USA
Kia Motors
Use your VIN to search for Kia safety recalls. … appointment if your vehicle has one or more service campaigns or recalls outstanding as listed below. … Please enter a valid 17-digit VIN number Please enter a valid 17-digit VIN number.
Information on Kia Recalls | Kia Owners
General Motors
View your Pontiac, Oldsmobile, Saturn, HUMMER or SAAB vehicle's specific recal information and active notifications at the GM Owner Center.
GM Recall Information | GM Recall Center | Pontiac, Oldsmobile …
Audi
The search tool will return information on applicable recalls/service campaigns.
Audi Recall Services by Vehicle Identification Number
Toyota
Get information on open safety recalls and service campaigns released since 1999 for Toyota, Lexus and Scion vehicles intended for sale or sold in the U.S., U.S. Territories, and Mexico using our quick and easy recall and campaign lookup below.
Lookup Safety Recalls & Service Campaigns by VIN – Toyota
Honda
Search VIN or Model/Year for recall information on Honda cars, crossovers and SUVs. … Check recalls by vehicle identification number.
Recall Information for Safety & Defects | Honda Owners Site
Apple Enterprise Partner
NCompassTrac works closely with Apple for iOS devices to bring the latest in mobile applications technology to market.
.
Google Android Partner
For Android tablets and devices, the NCloud is a click away. As an Android certified developer, our engineers are working to bring the best of this exciting wave of technology to your enterprise.
Amazon Web Services
Forecast: Cloudy with a 100% chance of success. Our cloud application takes advantage of the best technologies from Microsoft and Amazon Web Services for guaranteed uptime, replication, and scalability.