The road to customer acquisition and retention
Runs through


Introducing the NCompassTrac Dashboard® for DMS
Integrated with more than 40 Automotive & PowerSports Dealership Management Systems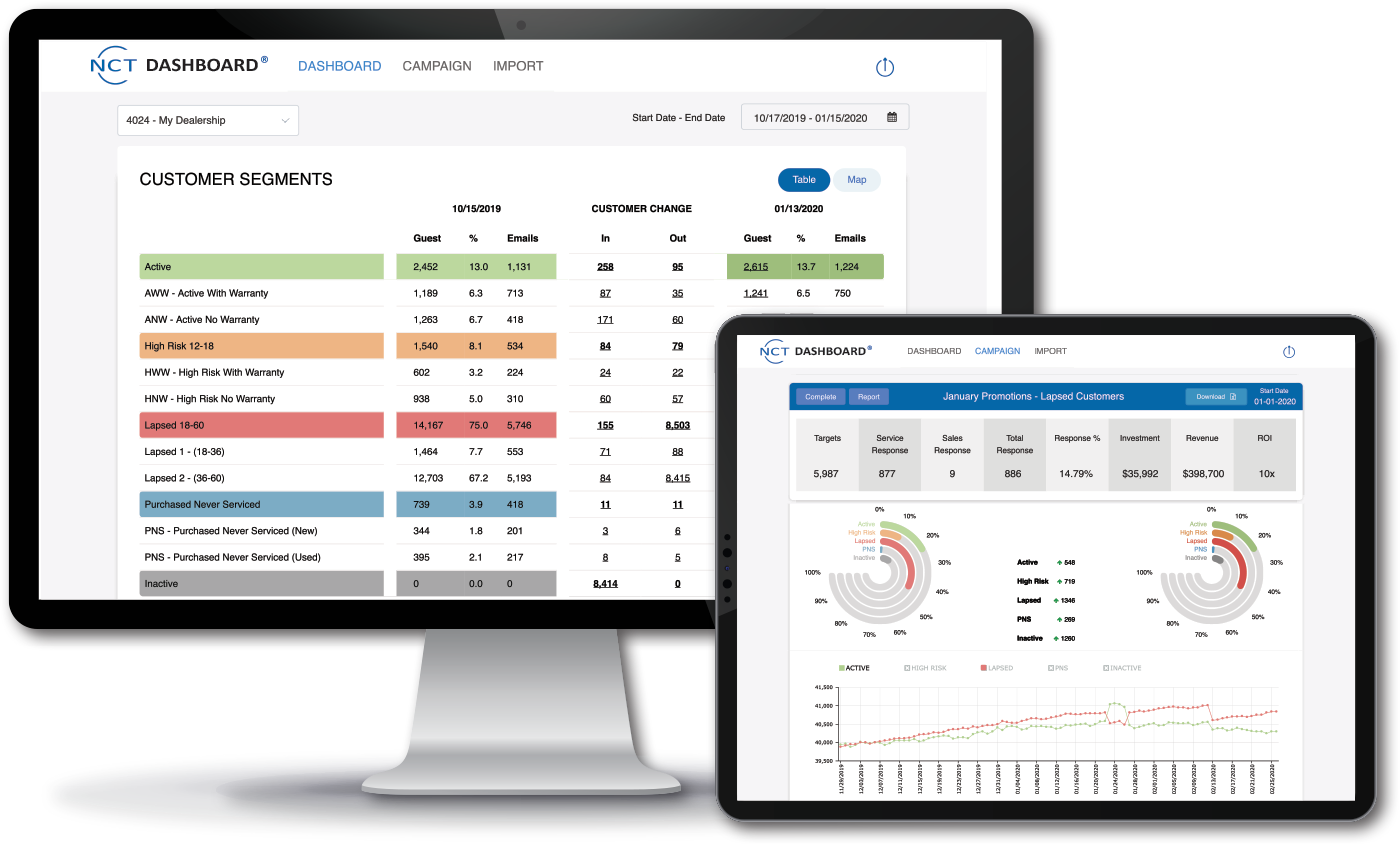 Visualize Opportunities
Analyze and intelligently segment your customer records into actionable targets.
Take Action
Deploy Targeted Marketing Campaigns using our Marketplace of on-demand digital communications and physical media tools.
Track Results
Track Campaign Performance associated with your Targeted Segments, real-time.
Until I installed the NCT Dashboard, I never saw my DMS data so thoughtfully visualized. In my role as General Manager, I load the Dashboard and walk into owner meetings to update management without spending hours exporting and preparing manual reports. To add accountability to my marketing staff, I can clearly see what types of campaigns work and which campaigns are least impactful. I can access the platform when I'm away from the Dealership, and I can always rely on the information being up to date because it lives on top of my DMS system. Every management staff for a Dealership should use the NCT Dashboard – I wish it was around sooner!
The NCT Dashboard integrates directly to our Talon server at our dealerships. The system is always up to date with the latest customer data and transactions and it empowers our marketing team to see under the hood of each of our Dealers. At the Group Level, the NCT Dashboard is a huge help because we can roll all of our Talon database systems up into a parent view to run reports, analytics, and understand the overall health of our dealer group. The dashboard allows us to see problems before they get too out of control: do we need to focus more on gaining active customers? Reduce the attrition of High Risk Customers? We were blind before, but now we know.
With one phone call, I can reach out to my Account Manager at NCompassTrac and get advice on loyalty rewards campaigns, digital communications, mobile app push notifications, and so much more.
We Support Our Customers – Guaranteed.
When you choose NCompassTrac, we're always at your side. Whether our "white-glove" account management services or our technical support desk – you can always count on us.
Want us to prove it?
Give us a call. We'll answer. Anytime.
1 (844) 468-6628
Experience Our Suite of Tools
Our team is empowering dealerships every day to Visualize Opportunities, Take Action, and Track Results. Want to see how your dealership can identify and motivate your most valuable customers to return for service or to purchase a new vehicle? Request a live demo now!
NCompassTrac Marketplace®
While visualizing opportunities in your DMS is important, taking action on those insights effectively can be challenging. With full-service fulfillment capabilities for both Physical Media and Digital Communications, NCompassTrac offers proprietary products that fill a variety of marketing needs as well as partnerships with industry leaders to make their solutions available for you to take action with the click of a button.
VERB Interactive Video
 Interactive video allows you to generate a raw or professional video from your phone or camera and embed "action links" which enables your targeted segment to directly and immediately engage with your Dealership. Tracking analytics show you video views, the length of viewing, and clicks for real-time follow-up and higher conversion. 
700Credit® Pre-Screen
Leverage the Pre-Screen data accelerator while creating campaigns to optimize initiatives by factoring your Dealership's desired credit criteria. With this partnership, deliver targeted communications with increased confidence that the subjects are within your target demographic.
MyDealerRewards®
 Designed with the sole purpose of acquiring and retaining customers within an area of influence – Dealerships can identify and target lost customers, conquest customers with same or competing brands who have never done business with your dealership, while tracking the performance of all revenue generated.
NCT Who's Up?®
Track and control the "Up" rotation of sales persons. No hardware required. The platform is equitable and self-managed, contains bi-directional messaging, in-app notifications, real-time reports, test drive tracking, and more.
DealerSocket® CRM
As a certified integration partner, rest assured knowing that any lead data will be sent real-time to the DealerSocket CRM product. Additionally supplement your NCT Dashboard context with pre-sales leads to increase audience for your targeted campaigns.
Dealership Mobile App
Complete with vehicle sales inventory, communication of specials, push notifications, digital coupons and wallet for dealership branded electronic cards.
… And More!
Does your product provide unique capabilities to help dealers take action with targeted campaigns?

Contact us

today to join the NCompassTrac Marketplace®.
In 2018 alone, automobile service was a $100 Billion industry. Car buyers need regular visits to the service drive but hate feeling like they're getting marketing that doesn't apply to them. Optimizing your customer communication is the key to long-term profitability. If a customer just purchased a car, for example, it doesn't do any good to try to sell them another. A smart marketing system will instead focus on their first maintenance visit. If your dealership offers free maintenance for six months or a year or two years, immediately after the sale is a...
read more
Service departments play a critical role in boosting dealership profitability. While the marketing spotlight often seems to shine on the new vehicle department, it is actually the service department that quietly generates the majority of profits for most dealerships. See how you can improve profitability by giving your service department a tune-up. "According to the most recent data from the National Automobile Dealers Association (NADA), the new-vehicle department of a car dealership accounts for about 58% of a dealership's total sales but less than 26% of a...
read more